Bridge K Program
Prepare Your Child for Kindergarten
? Bridge K Program
? Bridge K Staff
? Bridge K Facts
? Bridge K Registration
Learning Social Skills
The Bridge K Program provides an opportunity for your child to socialize with older children, familiarizing your child with what lies ahead in kindergarten. Our Bridge K'ers engage in activities that will help prepare them for Kindergarten - writing, math, and learning social skills as well as opening their minds to the world around them.
Philosophy
We foster a non-competitive environment to enable each child to become self-directed. We have created a safe, caring environment where children learn through exploration and discovery. Teachers help the children work out their own solutions when conflicts arise, fostering strong social skills. All cultures, religions, family choices and philosophies are embraced. We work with you to create the most supportive environment for your child.
Jewish Heritage
Each Friday afternoon we celebrate the culmination of the work and school week by welcoming Shabbat. To pass on to our children Shabbat traditions, we light candles, break the bread and bless the "wine" (grape juice). Special activities and experiential learning are also implemented to engage the children in the Jewish holidays and other cultural celebrations. Some of the activities from the past have included programs for the High Holidays, Sukkot, Chanukah, Tu B'Shvat, Purim, Passover. We also celebrate Earth Day, African American History Month, International Women's Day and other cultural events.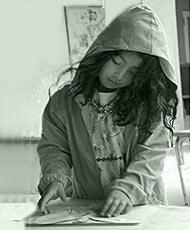 Your Childs Skills


support us

events

Shlomo Ben-Ami, Former Israeli Minister 2/11
Tu B'Shevat Seder Fund. 2/12
When Criticizing Israel is Beyond Legitimate! 2/21
Rashevsky?s Tango-Movie 2/26
Kolisha-Jewish Women's Voices Unbound 2/26
Watermarks-Movie 3/12

mailing list sign up
volunteer
 Winter calendar
latest news